March 27, 2019
Microsoft opens the first data centers in Africa, what does it mean?
When I was young, Dr. Albaan Hello Africa was one of my top favorites. I don't remember how many times I have listened to that Album. As an Indian from that time I have grown lots of curiosity about Africa and started reading lots of books (the Internet was not available during that time) about that wonderful continent. Since MS started expanding their Azure data centers across the globe I was wondering why they have not announced their expansion in Africa. In my last visit to Dubai, just before the launch of Dubai Data Center in the Middle East, I got the confirmation that MS is going to open their first data centers in South Africa and looks like the wait is over.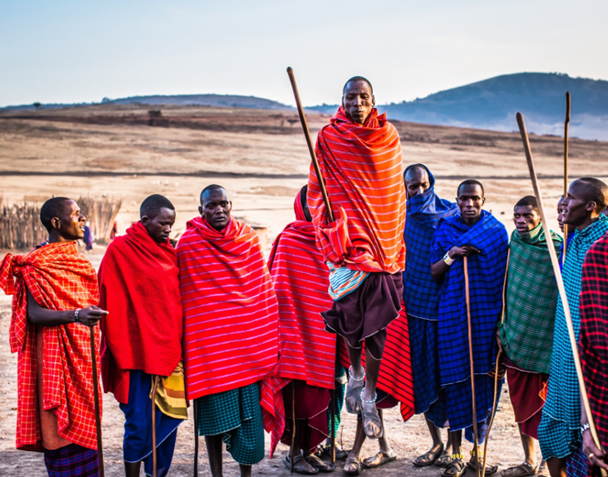 Picture Credit Pexels.com

Microsoft Azure announced the new cloud regions in Cape Town and Johannesburg on March 6th, South Africa.
Why Microsoft has expanded its footprint to Africa?

For the last couple of years, there were talks going on for heavy investment on Africa data centers. Africa is the world's second largest and second most-populous continent, being behind Asia in both categories. Africa is the world's second fastest-growing region, experiencing average annual GDP growth of around 4.7% with an annual GDP of USD 2.3 trillion in 2018. Africa is developing faster and the need for world-class cloud services in that region has increased in the last few years. The business has dramatically expanded by many MNC's in Africa and that is, of course, can't be ignored by Microsoft.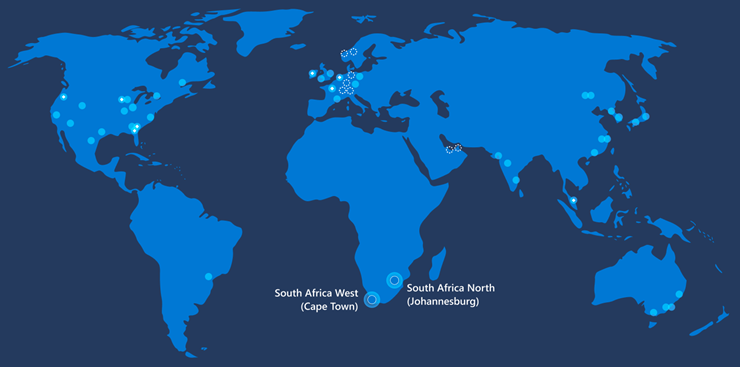 Fig: Present Azure Regions Map.
The launch of these regions marks a major milestone for Microsoft as they have opened their first enterprise-grade datacenters in Africa, becoming the first global provider to deliver cloud services from data centers on the continent. The new regions provide the latest example of their ongoing investment to help enable digital transformation and advanced technologies such as AI, cloud, and edge (Content Delivery Network) computing across Africa.
Microsoft's global cloud infrastructure will connect the new regions in South Africa with a greater business opportunity, help accelerate new global investment, and improve access to cloud and Internet services across Africa.
By delivering the comprehensive Microsoft Cloud — comprising Azure, Office 365, and Dynamics 365 — from data centers in a given geography, Microsoft will offer scalable, available, and resilient cloud services to companies and organizations while meeting data residency, security, and compliance needs of that region.
As per Microsoft Website, the new cloud regions in Africa are connected with Microsoft's other regions via their global network, one of the largest and most innovative on the planet, which spans more than 100,000 miles (161,000 kilometers) of terrestrial fiber and subsea cable systems to deliver services to customers. They've expanded their network footprint to reach Egypt, Kenya, Nigeria, and South Africa and will be expanding to Angola. Microsoft is bringing the global cloud closer to home for African organizations and citizens through their trans-Arabian paths between India and Europe, as well as their trans-Atlantic systems including Marea, the highest-capacity cable to ever cross the Atlantic.
What is the growing trend of public cloud business in Africa?

According to a study from IDC, spending on public cloud services in South Africa will nearly triple over the next five years, and the adoption of cloud services will generate nearly 112,000 net-new jobs in South Africa by the end of 2022. The increased utilization of public cloud services and additional investments into private and hybrid cloud solutions will enable organizations in South Africa to focus on innovation and building digital businesses at scale.

What does it bring in the table for Indian IT service based companies?

Many Indian IT service-based companies like L&T InfoTech and TCS who have significant client presence in South Africa and other African nations, compute and network cost is very high in Africa, they can leverage the Azure Data Centers for the expansion based on the new business requirement and leverage the word class data centers which greatly improved the SLA in the business commitments.
Nedbank, a leading African bank has already adopted Azure for their non-critical workload and had a plan to expand in Microsoft Azure.
What does it mean for IT engineers and Azure Pre Sales folks like us?

MS Azure Presence in Africa will definitely give us great computing power in click of a button, if you are using CDN now you can experience less latency and faster local download for local African customers, for the pre-sales folks can give a new pricing for their Azure Customers in Africa and you can talk about compliance blah blah blah.
What for African Citizens?

In the long run definitely, this will enhance the job creation and economic growth in Africa.
Congratulations to African People, welcome to the world of MS Azure.