April 23, 2023
A step-by-step guide to provision Windows 365 Frontline
The Windows 365 frontline is currently available for the public preview. Frontline and shift workers may now access the benefits of Windows in the cloud by using Windows 365 Frontline, which makes the process simpler and more inexpensive. Up to three Cloud PCs are supported by a single Windows 365 Frontline license. Any employee may utilize these Cloud PCs as long as there is only one active employee per license at any given moment. Therefore, you just need to buy the number of licenses necessary to support the maximum number of concurrent active users rather than acquiring Windows 365 Frontline for each employee.
Suppose there is an operation team with 6 employees. A personalized Cloud PC can be provided for each employee with just 2 licenses if, for example, just 2 of the 6 customer employees operating across time zones or shifts work concurrently. The next group of employees may log in to their customized Cloud PCs and pick up their work precisely where they left off at the end of the previous shift after these 2 employees save their data and sign out at the end of their shift. Additionally, a third set of 2 employees may sign in once their shift is over. Because their personal settings, data, and apps have been preserved and are immediately accessible after signing in, shift employees may start working right away.
You can manage Windows 365 Frontline alongside your other Windows 365 Cloud PCs and endpoints with Microsoft Intune. IT administrators may easily customize each group of Cloud PCs to match the needs of each type of employee, from delivering programs to applying settings.
Now, let's see a scenario if you have 6 people working in a 24 by 7 seven shift, you just need only 2 cloud PC frontline worker licenses. To check the license of your Windows 365 Frontline worker you need to log in to the Microsoft 365 admin center.
In the next step, you need to click the billing tab -> Select Your Products -> Your Windows 365 Frontline license should be visible to you.
In my lab here is the screenshot.

Step-by-step Provisioning Windows 365 Frontline Cloud PCs
If you're already experienced with establishing a Windows 365 Enterprise Cloud PC in Microsoft Intune, setting up a Windows 365 Frontline Cloud PC won't take very long. If you already have the product license available, you can log into the Intune portal. The portal URL is http://endpoint.microsoft.com,
Go to the Devices tab on the left as shown below.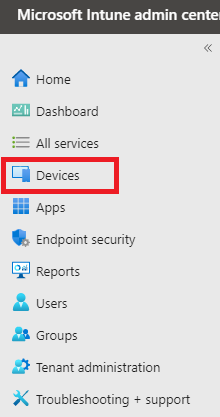 Go to the Windows 365 tab as shown below.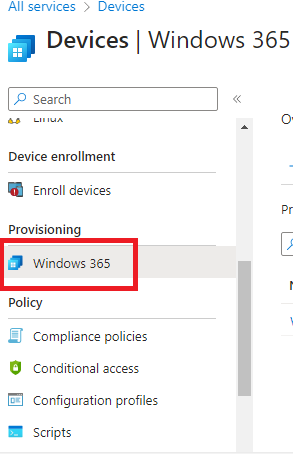 Next, go to the provisioning Policy Tab.

Create New Policy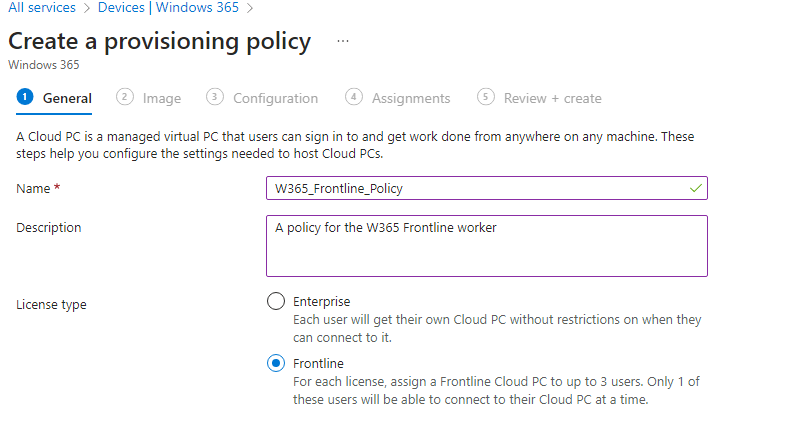 During the policy, creation provides the name, description, and license type.
Select the AD Join Type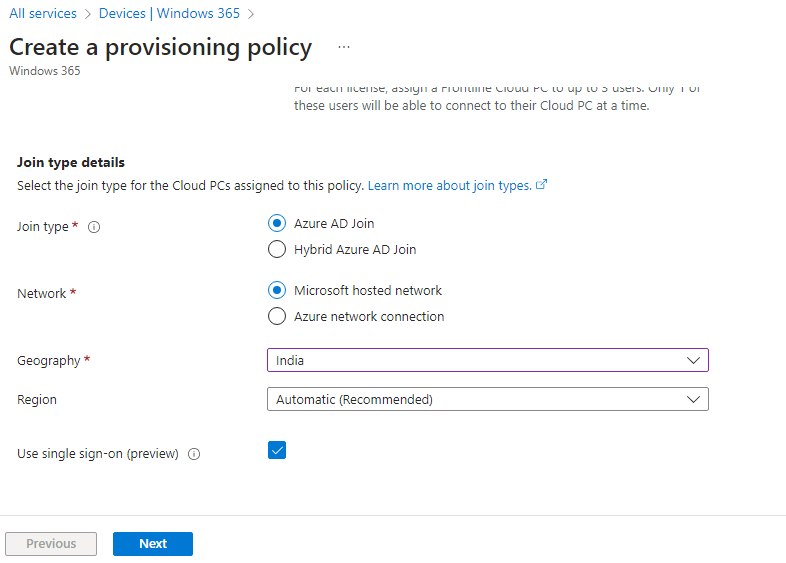 Next Choose the image type.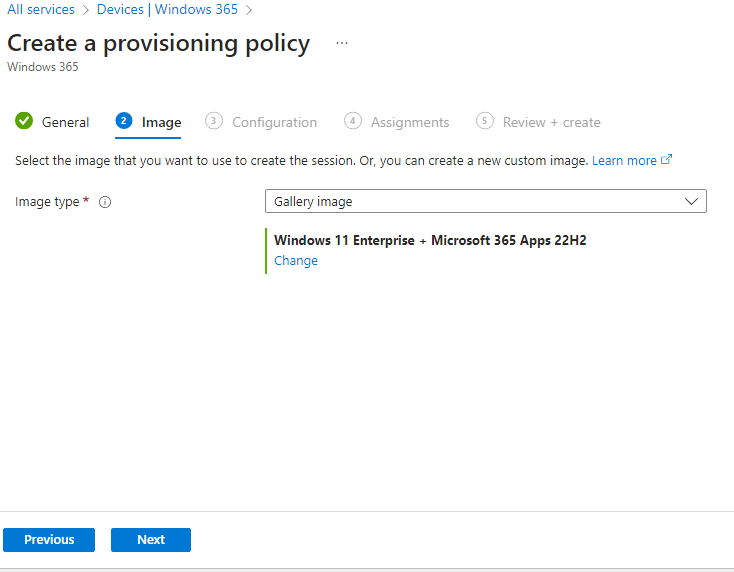 All the image SKU will be shown if you click on the change button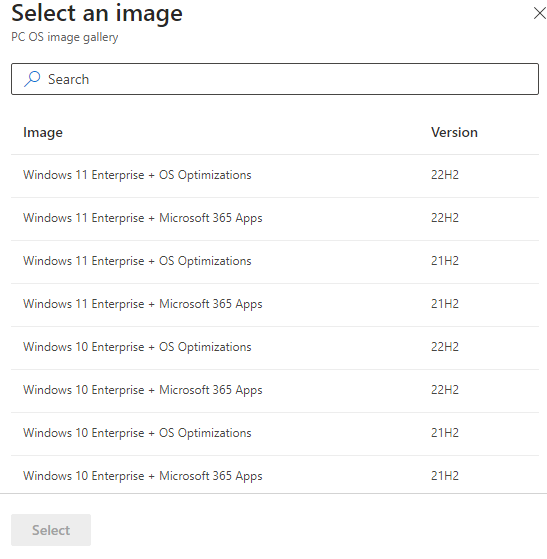 Next, you can select the configuration and patching details.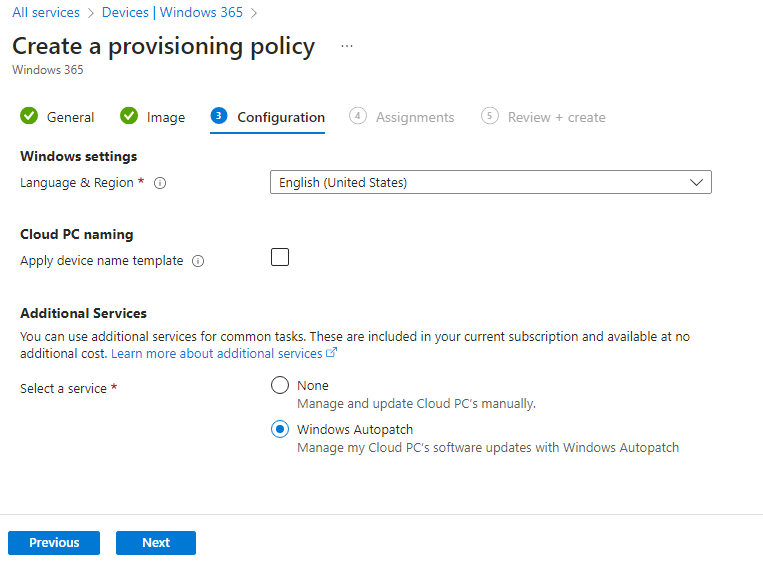 Now create a security group in AD in which 6 employees who are part of the operations team should be added.

Now, run the ADSync command to sync the group quickly with the Azure AD

In the next step assign the Cloud PC to this group.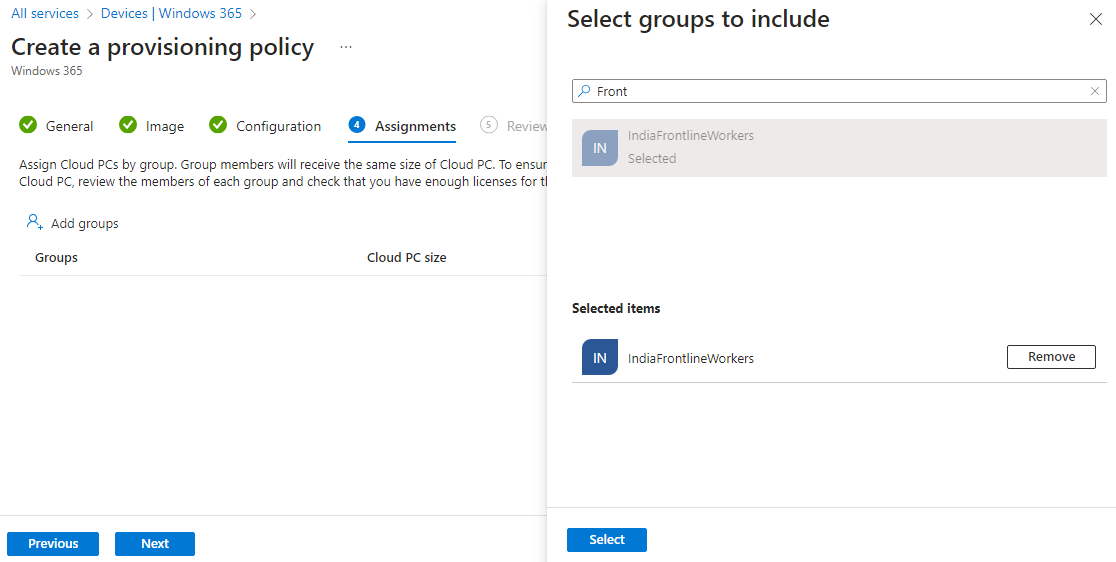 The next step is to select the size.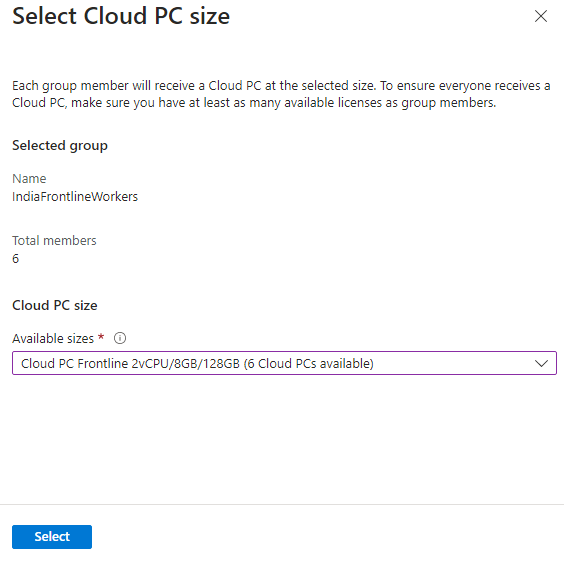 Once you select you should be able to see something like this.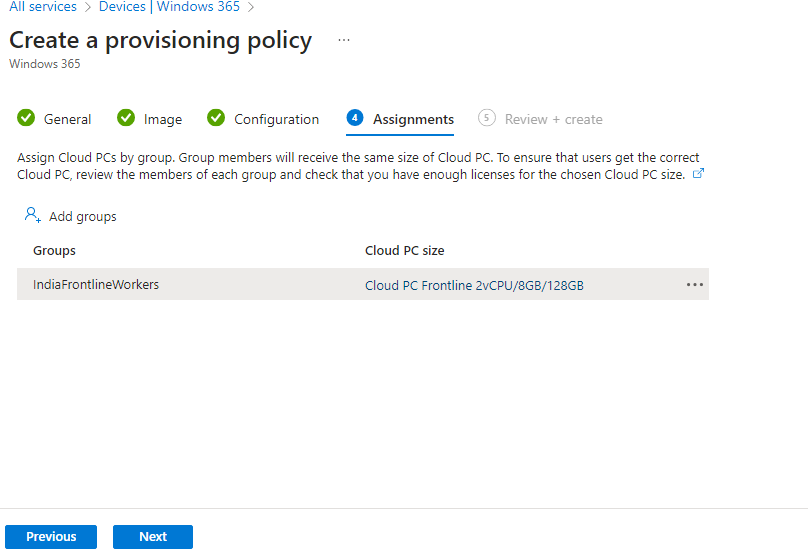 Now, click on next.Now you can see the final configuration.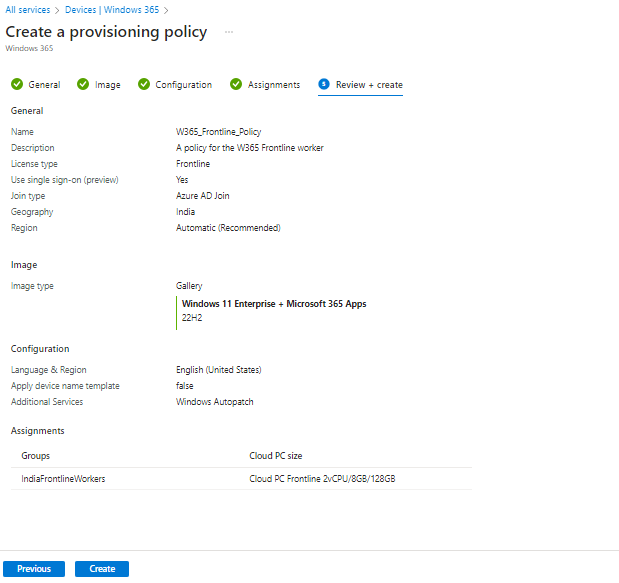 You can click on Create to create the new policy, once it's created you can find it in the list of providing policies.

You can click on the see users details to find the users list.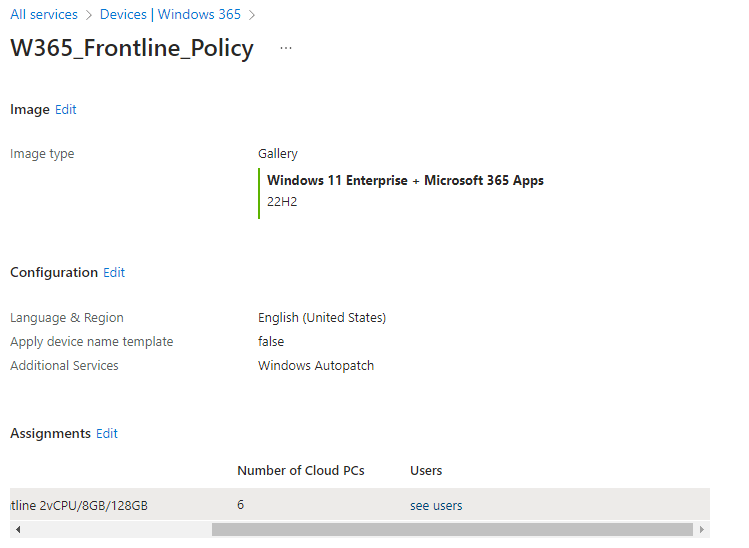 Cloud PCs provisioned to these users will be created and then automatically placed in a powered-off state until an employee logs in to their Cloud PC.
To view the progress, you can go to the All-Cloud PC tab.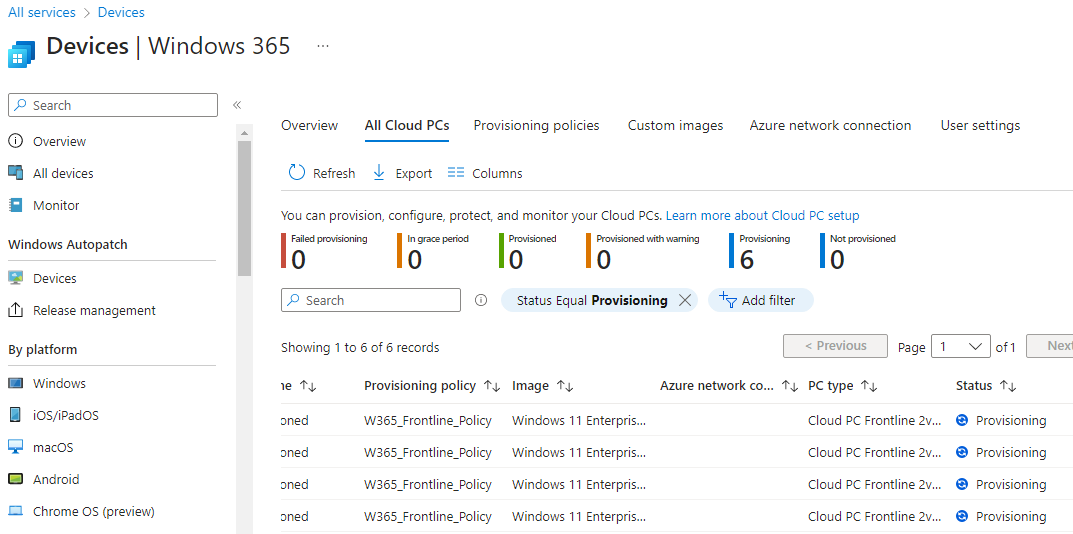 After almost 30 mins I can find that all 6 cloud PCs are provisioned. I have 4 Cloud PCs provisioned earlier so the total count is showing 10 here.

The details can be found in below screen shot.

Windows 365 Frontline Cloud PCs, as opposed to Windows 365 Enterprise Cloud PCs, are always switched off when not in use. Their Cloud PC is turned on when an employee checks in using the Windows 365 app or windows365.microsoft.com, and it is turned off when they click Disconnect. There is no need for administrative intervention in this procedure because it is entirely automated. When a Cloud PC is turned back on after being off, Intune policies and updates will be applied.
End-user experience:
End users can see the cloud PC for the frontline working if they refresh their remote desktop client. As you can see below.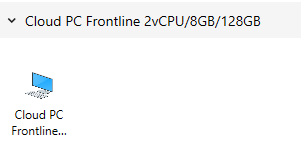 Once they first-time login they will see a screen like below.

Once logged in you should be able to find the same settings that you have on another Cloud PC.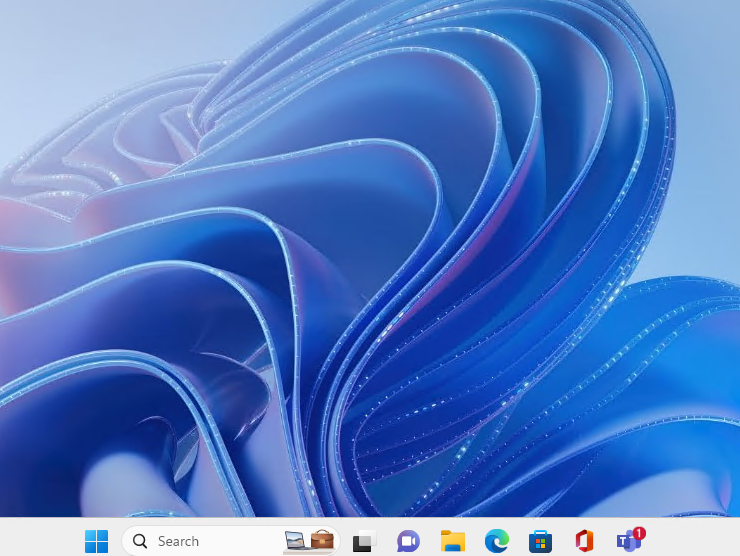 For businesses of any size that employ shift workers, seasonal personnel, or part-timers who require access to a computer only during their shift, Windows 365 Frontline is the best option. It is intended to make it easier for you to securely provide more workers with Cloud PCs as they are required, increasing worker satisfaction and productivity without requiring each worker to have their own device. Administrators can quickly create, deploy, administer, and protect Cloud PCs, as well as make the most of already-existing technological resources to satisfy the requirements of all staff members, thanks to the interaction with Azure Active Directory and Microsoft Intune.
That's all about today, thanks for the time to read this article. You have a great day ahead.