May 8, 2023
Citrix Adaptive Access based on the user's location is now available
A new feature has been added to Citrix Secure Private Access.
To implement this in your enterprise environment, you need the following prerequisites:
Citrix DaaS is deployed, and users can access it through the Citrix Workspace platform.
DaaS Premium / Premium Plus
Secure Private Access Advanced
The Citrix Workspace Adaptive Access feature utilizes an advanced policy infrastructure to grant access to Citrix Desktop as a Service (DaaS) based on the user's network location. This location is determined using the IP address range, or subnet addresses.
Administrators have the ability to define policies that either list or do not list virtual applications and desktops based on the user's network location. They can also regulate user actions by enabling or disabling features such as clipboard access, printers, and client drive mapping, depending on the user's network location. For instance, administrators can establish policies so that users accessing resources from home have limited access to applications, while users accessing resources from branch offices have full access.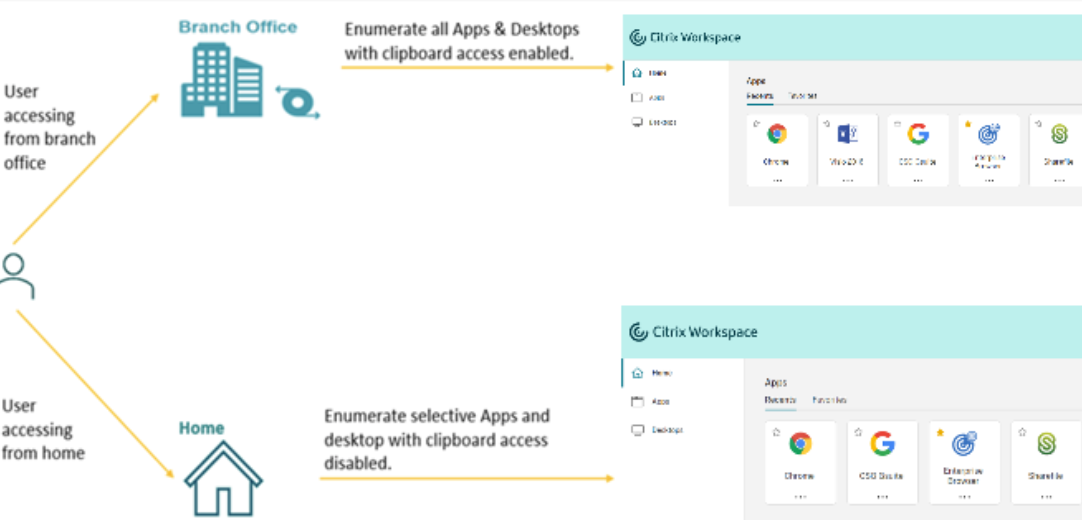 The following use cases can be implemented with this new feature. An administrator can enforce the following policies for accessing applications:
Enumerate a specific set of sensitive applications only when accessed from corporate locations or branch offices.
Do not enumerate sensitive applications if employees are accessing the workspace from an external network.
Disable printer access for users in branch offices.
Disable clipboard and printer access when users are outside the corporate network.
That's all for today. This is an important, long-awaited feature for the enterprise and is now available. If you have enabled Citrix Secure Private Access, you should plan to implement it in your enterprise.